With 40H40min, Watch_Dogs 2 (Ubisoft Montreal, 2016) is finally over!
This might seem a little harsh, but in the end I'm glad I finished the game. This is not to say that Watch_Dogs 2 is a bad game, that's far from the truth—and I had some incredible moments with it. Unfortunately, though, many of the earlier and later missions were a little frustrating. A large complex, 100+ guards, when one of them sees you, you're dead, mission failed, trial and error, system error in my head. Also, it seemed that the game took a little while to come to a close (Ubisoft threw in some more of the above described missions).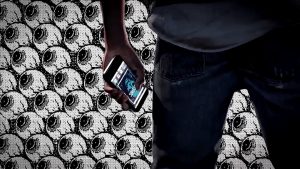 That said, probably one of the most intriguing aspects about Watch_Dogs 2 is its gameworld: the beauty and the brilliance of the virtual San Francisco. It is a gameworld that intermingles the boundaries between a fictional experience and a 'real' one, from participating in its story and in the dystopia of its world to playing a vivid game of video game tourism.
These two seemingly contradictory aspects are however intermingled in a very clever way. The extroverted lifestyle of its character, who fight for an utopian enclave in a world full of corruption and data crime, but who may also express themselves in a variety of creative fashions. One of these is the tourism aspect of the game, which underlines the before mentioned creativity, but, at the same time, undermines it in a critique of contemporary use of smart phone technology.
Because the VGT in Watch_Dogs 2 is so diverse, I have divided it in three episodes: episode 1) selfies, episode 2) drone pics, and episode 3) pics from climbing the Golden Gate.
Enjoy!
Part I: Selfies